News from Andromeda


Dark Ones lose massive battle.

Holy Rank Up - Divide and Conquer successful.

Chaos Over project given top priority by Barian.

Dark Ones lose battle.
The Dark Ones launched an assault on Andromeda and were confronted by the Grand Barian Army and a mass of Guardians totaling to a massive 50000 force. Taken by surprise the Dark Ones with a mass of an estimated 40000 were overrun by a Barian Army in full fury and force. The battle was swift lasting less than an hour and a crushing victory with only 17 casualties now honored for their service though about 8000 were injured though healed by other Barians.
Holy Rank Up Success
The key to the swift victory came from the newly created Holy Rank Up splitting a normal 600 Andromedan Guardians into 2400.
Chaos Over project becomes top priority of Barian
After the attack by the Dark Ones the Chaos Over project has become very important as Condread with the prototype version of the Chaos Over equipment lead the most important spearhead charge at the Dark Ones.
News for here on Earth


Conversion time rate figured out by Condread and Zera Zerona

Plans for expansion, what it means for media and the rest of the world.

Conversion Rates and Timeline
For a long time the time differences between Andromeda and Earth have been under the debate of the SSUU and at last a answer has been discovered, in the fallowing photo the conversions can bee seen as well as a small timeline.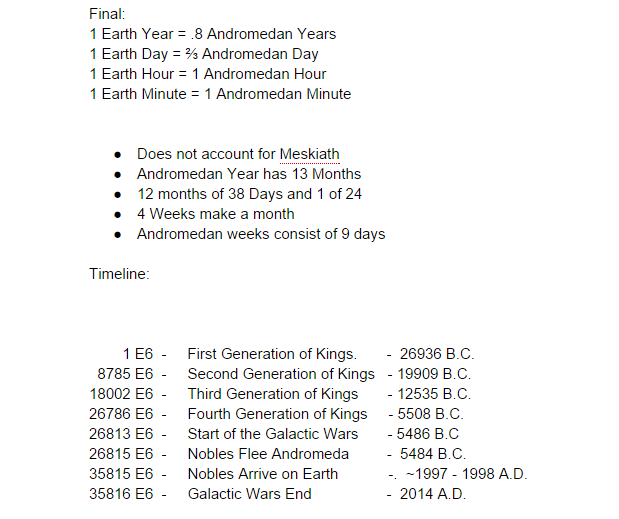 - The credit to the Year conversion of .8 is thanks to Zera Zerona and the rest was completed using that information by Condread.
-Please note with the Months it is meant to say 11 of 38 and 1 of 24.
Plans for expansion into Media
After the recent SSUU meeting on 10/13/14 2 of the 3 SSUU Captains being Etzio Driez and Condread Selstar have agreed on expanding media and will be adding to the SSUU YouTube and working on meeting and speaking with Spiritualist groups. This means nothing to the average person but could mean a lot for just how much you'll be hearing about the SSUU. (Yes the SSUU is aware that this announcement was made during the last news update, however the appearance of the Dark Ones halted this progress.)